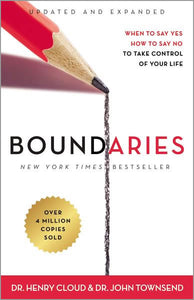 Cloud & Townsend
Boundaries (the book): When to Say Yes, How to Say No To Take Control of Your Life
Over 4 Million Copies Sold!



The New York Times bestseller Boundaries is the landmark book written by Dr. Henry Cloud and Dr. John Townsend that has transformed millions of individual lives, marriages, families, and organizations. The updated and expanded edition includes a new chapter on boundaries and the digital age and addresses boundaries for online dating, single parenting, and the workplace. Get the book that has helped people around the world find solutions to these tough questions:
How do I set limits and still be a loving person?
How do I keep my digital life from controlling the rest of my life?
What if someone is upset or hurt by my boundaries?
What does a legitimate boundary look like?
Why do I feel guilty or afraid when I consider telling someone "no"?
What can I do when someone wants more of my time, love, energy, or money than I'm comfortable giving?
Many people focus so much on being loving and unselfish that they forget their own limits and limitations. That's why the ability to set clear boundaries is essential to a healthy, balanced lifestyle. A boundary is a personal property line that marks those things for which we are responsible. Boundaries define who we are and who we are not. Drs. Cloud and Townsend offer biblically-based answers and show how to set healthy boundaries with your spouse, children, friends, parents, co-workers, and even yourself!
WHAT OTHERS ARE SAYING ABOUT BOUNDARIES
"I've been recommending Boundaries to friends, team members and radio listeners for more than twenty years. In fact, hardly a day goes by when I don't use something that I learned from this book. The principles are timeless, and the updates in this version make Boundaries even more relevant to readers and their relationships."
Dave Ramsey
New York Times Bestselling Author and Nationally Syndicated Radio Show Host
"Now updated and expanded, this classic book is more timely and relevant than ever for today's "always on, always there" culture. If technology and social media are intruding on your life and relationships, learn from the boundaries experts how to protect yourself and the people you love. This life-changing book is still the go-to guide for healthy relationships, personal growth, and true freedom in Christ."
Andy Stanley
Pastor, Author, Communicator, and Founder of North Point Ministries
"Of every book that I've read, Boundaries is the one I recommend most often. All of us can overcommit, become doormats, or find ourselves in codependent and dysfunctional relationships. Dr. Henry Cloud and Dr. John Townsend's one-of-a-kind book helps guide the reader through a change in mindset that eventually leads to a change in actions. If you know you have some unhealthy patterns in friendships, at work, in your schedule, with technology or your family, this book will help you establish the boundaries you need to create the life you are supposed to live."
Craig Groeschel
Pastor of Life.Church and New York Times Bestselling Author
Watch Dr. Cloud Explain the Power of Setting Boundaries
Additional Information
About the Contributor(s)

Dr. Henry Cloud is an acclaimed leadership expert, psychologist, and New York Times best-selling author. In his leadership consulting practice,...

Dr. Henry Cloud is an acclaimed leadership expert, psychologist, and New York Times best-selling author. In his leadership consulting practice, Dr. Cloud works with both Fortune 500 companies and smaller private businesses. He has an extensive executive coaching background and experience as a leadership consultant, devoting the majority of his time working with CEOs, leadership teams, and executives to improve performance, leadership skills, and culture. Dr. Cloud lives in Los Angeles with his wife, Tori, and their two daughters, Olivia and Lucy.

Dr. John Townsend is a nationally-known leadership consultant, psychologist, and New York Times bestselling author. John is the founder of the Townsend Institute for Leadership and Counseling, and the Townsend Leadership Program, which is a nationwide system of leadership training groups. He developed the online digital platform TownsendNOW, and the online assessment tool TPRAT. Dr. Townsend travels extensively for corporate consulting, speaking, and helping develop leaders, their teams and their families. He and his wife, Barbi, live in Newport Beach, California, and have two sons, Ricky and Benny. Visit DrTownsend.com.

Read More

ISBN-13

9780310351801

Publish Date

10/3/2017

Publisher

Zondervan

Format

Softcover

Language

English

Weight (lbs)

0.72 lb

Case Weight (lbs)

27.87 lbs

Dimensions

8.5(h) x 5.5(w) x 0.96(d) inches

Pages

352

Price

$13.99
Additional Information
About the Contributor(s)

Dr. Henry Cloud is an acclaimed leadership expert, psychologist, and New York Times best-selling author. In his leadership consulting practice,...

Dr. Henry Cloud is an acclaimed leadership expert, psychologist, and New York Times best-selling author. In his leadership consulting practice, Dr. Cloud works with both Fortune 500 companies and smaller private businesses. He has an extensive executive coaching background and experience as a leadership consultant, devoting the majority of his time working with CEOs, leadership teams, and executives to improve performance, leadership skills, and culture. Dr. Cloud lives in Los Angeles with his wife, Tori, and their two daughters, Olivia and Lucy.

Dr. John Townsend is a nationally-known leadership consultant, psychologist, and New York Times bestselling author. John is the founder of the Townsend Institute for Leadership and Counseling, and the Townsend Leadership Program, which is a nationwide system of leadership training groups. He developed the online digital platform TownsendNOW, and the online assessment tool TPRAT. Dr. Townsend travels extensively for corporate consulting, speaking, and helping develop leaders, their teams and their families. He and his wife, Barbi, live in Newport Beach, California, and have two sons, Ricky and Benny. Visit DrTownsend.com.

Read More

ISBN-13

9780310350231

Publish Date

10/3/2017

Publisher

Zondervan

Format

Hardcover

Language

English

Weight (lbs)

1.11 lb

Dimensions

9.3(h) x 6.4(w) x 1.12(d) inches

Pages

352

Price

$18.89
Additional Information
About the Contributor(s)

Dr. Henry Cloud is an acclaimed leadership expert, psychologist, and New York Times best-selling author. In his leadership consulting practice,...

Dr. Henry Cloud is an acclaimed leadership expert, psychologist, and New York Times best-selling author. In his leadership consulting practice, Dr. Cloud works with both Fortune 500 companies and smaller private businesses. He has an extensive executive coaching background and experience as a leadership consultant, devoting the majority of his time working with CEOs, leadership teams, and executives to improve performance, leadership skills, and culture. Dr. Cloud lives in Los Angeles with his wife, Tori, and their two daughters, Olivia and Lucy.

Dr. John Townsend is a nationally-known leadership consultant, psychologist, and New York Times bestselling author. John is the founder of the Townsend Institute for Leadership and Counseling, and the Townsend Leadership Program, which is a nationwide system of leadership training groups. He developed the online digital platform TownsendNOW, and the online assessment tool TPRAT. Dr. Townsend travels extensively for corporate consulting, speaking, and helping develop leaders, their teams and their families. He and his wife, Barbi, live in Newport Beach, California, and have two sons, Ricky and Benny. Visit DrTownsend.com.

Read More

ISBN-13

9780310350811

Publish Date

10/3/2017

Publisher

Zondervan

Format

eBook

Language

English

Weight (lbs)

0.0 lb

Pages

352

Price

$10.99
Additional Information
About the Contributor(s)

Dr. Henry Cloud is an acclaimed leadership expert, psychologist, and New York Times best-selling author. In his leadership consulting practice,...

Dr. Henry Cloud is an acclaimed leadership expert, psychologist, and New York Times best-selling author. In his leadership consulting practice, Dr. Cloud works with both Fortune 500 companies and smaller private businesses. He has an extensive executive coaching background and experience as a leadership consultant, devoting the majority of his time working with CEOs, leadership teams, and executives to improve performance, leadership skills, and culture. Dr. Cloud lives in Los Angeles with his wife, Tori, and their two daughters, Olivia and Lucy.

Dr. John Townsend is a nationally-known leadership consultant, psychologist, and New York Times bestselling author. John is the founder of the Townsend Institute for Leadership and Counseling, and the Townsend Leadership Program, which is a nationwide system of leadership training groups. He developed the online digital platform TownsendNOW, and the online assessment tool TPRAT. Dr. Townsend travels extensively for corporate consulting, speaking, and helping develop leaders, their teams and their families. He and his wife, Barbi, live in Newport Beach, California, and have two sons, Ricky and Benny. Visit DrTownsend.com.

Read More

ISBN-13

9780310351092

Publish Date

10/3/2017

Publisher

Zondervan

Running Time

10:10:00

Format

Audio - Download

Language

English

Weight (lbs)

1.11 lb

Price

$26.94
---
Share this Product
You May Also Like