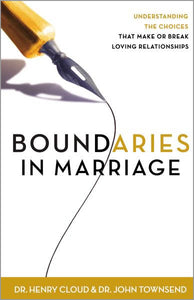 Cloud & Townsend
Boundaries in Marriage (the book): Understanding the Choices That Make or Break Loving Relationships
Understanding the Choices that Make or Break Loving Relationships
Discover the book that has literally helped to save and enhance thousands of marriages.
If your marriage is struggling or you want to make a great marriage even better, Boundaries in Marriage has the solutions. Two lives becoming one sounds easier said than done. After the honeymoon is over, how do you solve problems? How do you establish healthy communication? How do you work out conflict and deal with the struggle of differing needs?
Drs. Henry Cloud and John Townsend show how you and your mate can experience marriage at its best. You'll learn how to:
Transform your relationship into a haven of mutual love, caring, and appreciation.
Protect your marriage from intruders, whether parents, affairs, or addictions.
Handle conflict effectively without losing your voice in the relationship.
Develop a sense of closeness and respect that you've never felt before.
Whether you're a newlywed or married for many years, Boundaries in Marriage will help you build a foundation for your marriage to flourish. Drawing on principles from the Bible, learn new ways to safeguard against relational fractures and mend existing cracks. It may even save your marriage. Best of all, it will help make a good marriage great!
WHAT READERS ARE SAYING ABOUT BOUNDARIES IN MARRIAGE
"Boundaries in Marriage saved my marriage and my sanity…literally it did. I'd read dozens of books trying to find a way to salvage my marriage, including several advising doing anything to please your husband. Boundaries in Marriage gives advice on how you (man or woman) can be loving but also stand firm in the areas that define your freedom as an individual, your self respect, and your dignity as a human being. This was the first book on relationships that made total sense to me and made a truly positive difference in my life."
J. Blue in Idaho
"Boundaries in Marriage is an excellent gift to give as an engagement present or shower gift, but it needn't stop there. I've been married for over thirty-five years, and it is never too late to learn new knowledge based on biblical principles. I wish I'd had this book thirty-six years ago."
Lorraine W. – Saratoga Springs, NY
Additional Information
About the Contributor(s)

Dr. Henry Cloud is an acclaimed leadership expert, psychologist, and New York Times best-selling author. In his leadership consulting practice,...

Dr. Henry Cloud is an acclaimed leadership expert, psychologist, and New York Times best-selling author. In his leadership consulting practice, Dr. Cloud works with both Fortune 500 companies and smaller private businesses. He has an extensive executive coaching background and experience as a leadership consultant, devoting the majority of his time working with CEOs, leadership teams, and executives to improve performance, leadership skills, and culture. Dr. Cloud lives in Los Angeles with his wife, Tori, and their two daughters, Olivia and Lucy.

Dr. John Townsend is a nationally-known leadership consultant, psychologist, and New York Times bestselling author. John is the founder of the Townsend Institute for Leadership and Counseling, and the Townsend Leadership Program, which is a nationwide system of leadership training groups. He developed the online digital platform TownsendNOW, and the online assessment tool TPRAT. Dr. Townsend travels extensively for corporate consulting, speaking, and helping develop leaders, their teams and their families. He and his wife, Barbi, live in Newport Beach, California, and have two sons, Ricky and Benny. Visit DrTownsend.com.

Read More

ISBN-13

9780310243144

Publish Date

8/8/2002

Publisher

Zondervan

Format

Softcover

Language

English

Weight (lbs)

0.52 lb

Dimensions

8.5(h) x 5.5(w) x 0.63(d) inches

Pages

256

Price

$12.59
Additional Information
About the Contributor(s)

Dr. Henry Cloud is an acclaimed leadership expert, psychologist, and New York Times best-selling author. In his leadership consulting practice,...

Dr. Henry Cloud is an acclaimed leadership expert, psychologist, and New York Times best-selling author. In his leadership consulting practice, Dr. Cloud works with both Fortune 500 companies and smaller private businesses. He has an extensive executive coaching background and experience as a leadership consultant, devoting the majority of his time working with CEOs, leadership teams, and executives to improve performance, leadership skills, and culture. Dr. Cloud lives in Los Angeles with his wife, Tori, and their two daughters, Olivia and Lucy.</p>

Dr. John Townsend is a nationally-known leadership consultant, psychologist, and New York Times bestselling author. John is the founder of the Townsend Institute for Leadership and Counseling, and the Townsend Leadership Program, which is a nationwide system of leadership training groups. He developed the online digital platform TownsendNOW, and the online assessment tool TPRAT. Dr. Townsend travels extensively for corporate consulting, speaking, and helping develop leaders, their teams and their families. He and his wife, Barbi, live in Newport Beach, California, and have two sons, Ricky and Benny. Visit DrTownsend.com.

Read More

ISBN-13

9780310319245

Publish Date

8/8/2002

Publisher

Zondervan

Format

eBook

Language

English

Weight (lbs)

0.0 lb

Pages

256

Price

$14.99
Additional Information
About the Contributor(s)

Dr. Henry Cloud is an acclaimed leadership expert, psychologist, and New York Times best-selling author. In his leadership consulting practice,...

Dr. Henry Cloud is an acclaimed leadership expert, psychologist, and New York Times best-selling author. In his leadership consulting practice, Dr. Cloud works with both Fortune 500 companies and smaller private businesses. He has an extensive executive coaching background and experience as a leadership consultant, devoting the majority of his time working with CEOs, leadership teams, and executives to improve performance, leadership skills, and culture. Dr. Cloud lives in Los Angeles with his wife, Tori, and their two daughters, Olivia and Lucy.

Dr. John Townsend is a nationally-known leadership consultant, psychologist, and New York Times bestselling author. John is the founder of the Townsend Institute for Leadership and Counseling, and the Townsend Leadership Program, which is a nationwide system of leadership training groups. He developed the online digital platform TownsendNOW, and the online assessment tool TPRAT. Dr. Townsend travels extensively for corporate consulting, speaking, and helping develop leaders, their teams and their families. He and his wife, Barbi, live in Newport Beach, California, and have two sons, Ricky and Benny. Visit DrTownsend.com.

Read More

ISBN-13

9780310260080

Publish Date

8/8/2002

Publisher

Zondervan

Running Time

9:00:00

Format

Audio - Download

Language

English

Weight (lbs)

0.52 lb

Price

$26.94
---
Share this Product
You May Also Like