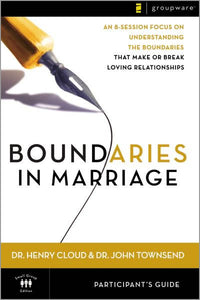 Cloud & Townsend
Boundaries in Marriage Video Study Participant's Guide
Participant's Guide (Video Study DVD sold separately)
Only when a husband and wife know and respect each other's needs, choices, and freedom can they give themselves freely and lovingly to one another.
Boundaries in Marriage gives the couples in your group the marriage-strengthening tools they need. By applying the powerful biblical and relational principles presented in this video study, couples can make a good marriage better and even save one that's headed for disaster.
Exercises and activities in each of the eight sessions help partners connect principles with marriage-strengthening application. Boundaries in Marriage will pay huge dividends wherever couples desire to understand the friction points or serious hurts in their marriages—so they can move beyond them to a better relationship.
Boundaries in Marriage sessions:
What's a Boundary, Anyway?
Applying the Ten Laws of Boundaries to Marriage
Setting Boundaries with Yourself
Values One and Two: Love of God and Love of Spouse
Values Three and Four: Honesty and Faithfulness
Values Five and Six: Compassion and Forgiveness, and Holiness
Resolving Conflict in Marriage
Some Warning Signs to Help Your Marriage
For use with the Boundaries in Marriage video study DVD, sold separately.
Additional Information
ISBN-13

9780310246152

Weight (lbs)

0.46 lb

Price

$7.69
---
Share this Product
You May Also Like