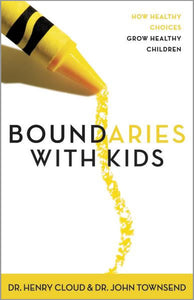 Cloud & Townsend
Boundaries with Kids (the book): How Healthy Choices Grow Healthy Children
This book may be the best investment you ever make into the lifelong welfare of your children. 
Get the help you need for raising your kids to take responsibility for their actions, attitudes, and emotions. Drs. Henry Cloud and John Townsend take you through the ins and outs of instilling the kind of character in your children that will help them lead balanced, productive, and fulfilling adult lives. Learn how to:
Set limits and still be a loving parent.
Bring control to a chaotic family life.
Define age-appropriate boundaries and consequences for your kids.
WHAT READERS ARE SAYING ABOUT BOUNDARIES WITH KIDS
"Boundaries with Kids helps us give our kids the skills they need to live realistic and full lives in meaningful relationships. Not perfect—but healthy!"
Elisa Morgan, author and former President of MOPS International, Inc.
"Boundaries with Kids has helped my husband and I to not only be on the same page with our discipline methods but also to really focus on how our three kids' behaviors right now in the present will affect their future when they are on their own. It has helped us to set boundaries for them and is also teaching our kids to learn to set firm boundaries on their own with their lives. I've yet to find a book on raising children that is so clear and effective and really guides you through how to be an effective parent for the good of your kids' future."
Georgina V. D., California
Additional Information
About the Contributor(s)

Dr. Henry Cloud is an acclaimed leadership expert, psychologist, and New York Times best-selling author. In his leadership consulting practice,...

Dr. Henry Cloud is an acclaimed leadership expert, psychologist, and New York Times best-selling author. In his leadership consulting practice, Dr. Cloud works with both Fortune 500 companies and smaller private businesses. He has an extensive executive coaching background and experience as a leadership consultant, devoting the majority of his time working with CEOs, leadership teams, and executives to improve performance, leadership skills, and culture. Dr. Cloud lives in Los Angeles with his wife, Tori, and their two daughters, Olivia and Lucy.

<p>Dr. John Townsend is a nationally-known leadership consultant, psychologist, and New York Times bestselling author. John is the founder of the Townsend Institute for Leadership and Counseling, and the Townsend Leadership Program, which is a nationwide system of leadership training groups. He developed the online digital platform TownsendNOW, and the online assessment tool TPRAT. Dr. Townsend travels extensively for corporate consulting, speaking, and helping develop leaders, their teams and their families. He and his wife, Barbi, live in Newport Beach, California, and have two sons, Ricky and Benny. Visit DrTownsend.com.

Read More

ISBN-13

9780310243151

Publish Date

10/25/2001

Publisher

Zondervan

Format

Softcover

Language

English

Weight (lbs)

0.44 lb

Dimensions

8.5(h) x 5.5(w) x 0.63(d) inches

Pages

224

Price

$12.59
Additional Information
About the Contributor(s)

Dr. Henry Cloud is an acclaimed leadership expert, psychologist, and New York Times best-selling author. In his leadership consulting practice,...

Dr. Henry Cloud is an acclaimed leadership expert, psychologist, and New York Times best-selling author. In his leadership consulting practice, Dr. Cloud works with both Fortune 500 companies and smaller private businesses. He has an extensive executive coaching background and experience as a leadership consultant, devoting the majority of his time working with CEOs, leadership teams, and executives to improve performance, leadership skills, and culture. Dr. Cloud lives in Los Angeles with his wife, Tori, and their two daughters, Olivia and Lucy.

Dr. John Townsend is a nationally-known leadership consultant, psychologist, and New York Times bestselling author. John is the founder of the Townsend Institute for Leadership and Counseling, and the Townsend Leadership Program, which is a nationwide system of leadership training groups. He developed the online digital platform TownsendNOW, and the online assessment tool TPRAT. Dr. Townsend travels extensively for corporate consulting, speaking, and helping develop leaders, their teams and their families. He and his wife, Barbi, live in Newport Beach, California, and have two sons, Ricky and Benny. Visit DrTownsend.com.

Read More

ISBN-13

97809780310565666

Publish Date

10/25/2001

Publisher

Zondervan

Format

eBook

Language

English

Weight (lbs)

0.0 lb

Pages

224

Price

$10.99
Additional Information
About the Contributor(s)

Dr. Henry Cloud is an acclaimed leadership expert, psychologist, and New York Times best-selling author. In his leadership consulting practice,...

Dr. Henry Cloud is an acclaimed leadership expert, psychologist, and New York Times best-selling author. In his leadership consulting practice, Dr. Cloud works with both Fortune 500 companies and smaller private businesses. He has an extensive executive coaching background and experience as a leadership consultant, devoting the majority of his time working with CEOs, leadership teams, and executives to improve performance, leadership skills, and culture. Dr. Cloud lives in Los Angeles with his wife, Tori, and their two daughters, Olivia and Lucy.

Dr. John Townsend is a nationally-known leadership consultant, psychologist, and New York Times bestselling author. John is the founder of the Townsend Institute for Leadership and Counseling, and the Townsend Leadership Program, which is a nationwide system of leadership training groups. He developed the online digital platform TownsendNOW, and the online assessment tool TPRAT. Dr. Townsend travels extensively for corporate consulting, speaking, and helping develop leaders, their teams and their families. He and his wife, Barbi, live in Newport Beach, California, and have two sons, Ricky and Benny. Visit DrTownsend.com.

Read More

ISBN-13

9780310260097

Publish Date

10/31/2003

Publisher

Zondervan

Running Time

02:41:00

Format

Audio - Download

Language

English

Weight (lbs)

0.0 lb

Price

$20.96
---
Share this Product
You May Also Like