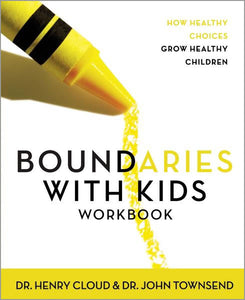 Cloud & Townsend
Boundaries with Kids (the workbook): How Healthy Choices Grow Healthy Children
What the Award-Winning Boundaries Has Done for Adult Relationships, Boundaries with Kids Will Do for You and Your Children
This workbook helps you put the principles detailed in Boundaries with Kids to work in your family.
Here at last is the help you need for raising your kids to take responsibility for their actions, attitudes, and emotions. Drs. Henry Cloud and John Townsend take you through the ins and outs of establishing family boundaries and cultivating sound character in your children.
The clear, helpful exercises and applications in the Boundaries with Kids Workbook will help you make the leap from understanding to:
Identifying the boundary issues underlying child behavior problems

Setting boundaries and establishing consequences with your kids

Getting out of the "nagging" trap * relinquishing control and helping your child develop self-control instead

Applying the ten laws of boundaries to parenting

Taking six practical steps for implementing boundaries with your kids
Step by step, you will take strides toward bringing control to an out-of-control family life, setting limits while still being a loving parent—and above all, instilling in your children the godly character that is the foundation for healthy, productive adult living.
Additional Information
ISBN-13

9780310223498

Weight (lbs)

0.68 lb

Price

$9.09
---
Share this Product
You May Also Like