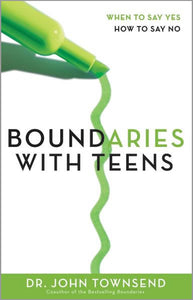 John Townsend
Boundaries with Teens: When to Say Yes, How to Say No
Teenagers! You love them to pieces, but sometimes you feel like the pieces are falling apart.
Relax…your sanity will survive these rocky teenage years, and so will your teens—provided you set healthy boundaries that work to their benefit and yours. Boundaries with Teens will show you how.
Dr. John Townsend provides the expert insight you need to help your teens take responsibility for their actions, attitudes, and emotions while gaining a deeper appreciation and respect both for you and for themselves. With wisdom and empathy, Dr. Townsend, a father of two teens himself, applies biblically-based principles for the challenging task of leading your children through the teen years. With his guidance, you will be able to:
Deal with disrespectful attitudes and impossible behavior in your teen.
Set healthy limits and realistic consequences.
Be loving and caring while establishing rules.
Determine specific strategies to deal with problems both big and small.
Discover how your teenager thinks. Learn how to apply biblical principles to specific problems. Boundaries with Teens can help you establish wise and loving limits that make a positive difference in your adolescent, in the rest of your family, and in you.
WHAT READERS ARE SAYING ABOUT BOUNDARIES WITH TEENS
"If you have children or grandchildren, Boundaries with Teens is for you! It is perfect for any parent of a young child wanting to prepare for the teenage years. It is so well put together that you can also use it as a quick reference when faced with an unexpected challenge that needs to be addressed immediately."
Steven T. in Ohio
"Boundaries with Teens covers the gamut of issues you may be facing as a parent of a teen. It even goes through verbal scenarios that will definitely be encountered. As a seasoned parent, it reinforced many things I already know. But, just as you think you've got parenting down, the next child is all different. This book is excellent for every new spin your teen might throw at you, with practical conversations that hit home."
Abby in Virginia
Additional Information
About the Contributor(s)

Dr. John Townsend is a nationally-known leadership consultant, psychologist, and New York Times bestselling author. John is the founder of the...

Dr. John Townsend is a nationally-known leadership consultant, psychologist, and New York Times bestselling author. John is the founder of the Townsend Institute for Leadership and Counseling, and the Townsend Leadership Program, which is a nationwide system of leadership training groups. He developed the online digital platform TownsendNOW, and the online assessment tool TPRAT. Dr. Townsend travels extensively for corporate consulting, speaking, and helping develop leaders, their teams and their families. He and his wife, Barbi, live in Newport Beach, California, and have two sons, Ricky and Benny. Visit DrTownsend.com.

Read More

ISBN-13

9780310270454

Publish Date

2/9/2006

Publisher

Zondervan

Format

Softcover

Language

English

Weight (lbs)

0.6 lb

Dimensions

8.4(h) x 5.6(w) x 0.75(d) inches

Pages

288

Price

$11.89
Additional Information
About the Contributor(s)

Dr. John Townsend is a nationally-known leadership consultant, psychologist, and New York Times bestselling author. John is the founder of the...

Dr. John Townsend is a nationally-known leadership consultant, psychologist, and New York Times bestselling author. John is the founder of the Townsend Institute for Leadership and Counseling, and the Townsend Leadership Program, which is a nationwide system of leadership training groups. He developed the online digital platform TownsendNOW, and the online assessment tool TPRAT. Dr. Townsend travels extensively for corporate consulting, speaking, and helping develop leaders, their teams and their families. He and his wife, Barbi, live in Newport Beach, California, and have two sons, Ricky and Benny. Visit DrTownsend.com.

Read More

ISBN-13

9780310565673

Publish Date

2/9/2006

Publisher

Zondervan

Format

eBook

Language

English

Weight (lbs)

0.0 lb

Pages

288

Price

$9.99
Additional Information
About the Contributor(s)

Dr. John Townsend is a nationally-known leadership consultant, psychologist, and New York Times bestselling author. John is the founder of the...

Dr. John Townsend is a nationally-known leadership consultant, psychologist, and New York Times bestselling author. John is the founder of the Townsend Institute for Leadership and Counseling, and the Townsend Leadership Program, which is a nationwide system of leadership training groups. He developed the online digital platform TownsendNOW, and the online assessment tool TPRAT. Dr. Townsend travels extensively for corporate consulting, speaking, and helping develop leaders, their teams and their families. He and his wife, Barbi, live in Newport Beach, California, and have two sons, Ricky and Benny. Visit DrTownsend.com.

Read More

ISBN-13

9780310269076

Publish Date

2/9/2006

Publisher

Zondervan

Running Time

08:21:00

Format

Audio - Download

Language

English

Weight (lbs)

0.6 lb

Price

$23.95
---
Share this Product
You May Also Like