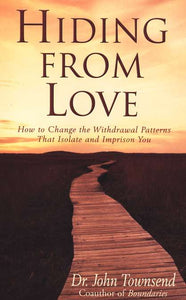 John Townsend
Hiding from Love: How to Change the Withdrawal Patterns That Isolate and Imprison You
Hiding from Love will take you on a journey of discovery toward healing, connected relationships, and a new freedom and joy in living.
When you experience emotional injury, fear, shame, or pride your first impulse is to hide the hurting parts of yourself from God, others, even yourself. Often you've learned these hiding patterns during childhood to protect yourself in a threatening environment.
The problem is that when you hide your injuries and frailties, you isolate yourself from the very things you need in order to heal and mature. What served as protection for a child becomes a prison to an adult.
In Hiding from Love, Dr. John Townsend helps you to explore thoroughly the hiding patterns you've developed and guides you toward the healing grace and truth that God has built into safe, connected relationships with himself and others. You'll discover:
The difference between "good" and "bad" hiding
Why you hide the broken parts of your soul from the God who can heal them
How to be free to make mistakes without fear of exposing your failures and imperfections
How to obtain the joy and wholeness God intends you to have through healthy bonding with others.
A companion workbook is also available (sold separately).
Additional Information
About the Contributor(s)

Dr. John Townsend is a nationally-known leadership consultant, psychologist, and New York Times bestselling author. John is the founder of the...

Dr. John Townsend is a nationally-known leadership consultant, psychologist, and New York Times bestselling author. John is the founder of the Townsend Institute for Leadership and Counseling, and the Townsend Leadership Program, which is a nationwide system of leadership training groups. He developed the online digital platform TownsendNOW, and the online assessment tool TPRAT. Dr. Townsend travels extensively for corporate consulting, speaking, and helping develop leaders, their teams and their families. He and his wife, Barbi, live in Newport Beach, California, and have two sons, Ricky and Benny. Visit DrTownsend.com.

Read More

ISBN-13

9780310201076

Publish Date

1/23/1996

Publisher

Zondervan

Format

Softcover

Language

English

Weight (lbs)

0.54 lb

Dimensions

8.0(h) x 5.3(w) x 0.75(d) inches

Pages

304

Price

$11.89
---
Share this Product
You May Also Like