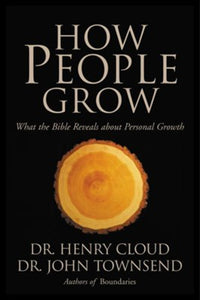 Cloud & Townsend
How People Grow: What the Bible Reveals About Personal Growth
All growth is spiritual growth.
Authors Drs. Cloud and Townsend unlock age-old keys to growth from Scripture to help you resolve issues of relationships, maturity, emotional problems, and overall spiritual growth. They shatter popular misconceptions about how God operates and show that growth is not about self-actualization, but about God's sanctification.
In this theological foundation to their New York Times bestselling book Boundaries, they discuss:
What the essential processes are that make people grow
How those processes fit into a biblical understanding of spiritual growth and theology
How spiritual growth and real-life issues are one and the same
What the responsibilities are of pastors, counselors, and others who assist people in growing—and what your own responsibilities are in your personal growth.
Additional Information
About the Contributor(s)

Dr. Henry Cloud is an acclaimed leadership expert, psychologist, and New York Times best-selling author. In his leadership consulting practice,...

Dr. Henry Cloud is an acclaimed leadership expert, psychologist, and New York Times best-selling author. In his leadership consulting practice, Dr. Cloud works with both Fortune 500 companies and smaller private businesses. He has an extensive executive coaching background and experience as a leadership consultant, devoting the majority of his time working with CEOs, leadership teams, and executives to improve performance, leadership skills, and culture. Dr. Cloud lives in Los Angeles with his wife, Tori, and their two daughters, Olivia and Lucy.

Dr. John Townsend is a nationally-known leadership consultant, psychologist, and New York Times bestselling author. John is the founder of the Townsend Institute for Leadership and Counseling, and the Townsend Leadership Program, which is a nationwide system of leadership training groups. He developed the online digital platform TownsendNOW, and the online assessment tool TPRAT. Dr. Townsend travels extensively for corporate consulting, speaking, and helping develop leaders, their teams and their families. He and his wife, Barbi, live in Newport Beach, California, and have two sons, Ricky and Benny. Visit DrTownsend.com.

Read More

ISBN-13

9780310257370

Publish Date

5/6/2004

Publisher

Zondervan

Format

Softcover

Language

English

Weight (lbs)

0.65 lb

Dimensions

8.0(h) x 5.38(w) x 1.0(d) inches

Pages

368

Price

$13.29
Additional Information
About the Contributor(s)

Dr. Henry Cloud is an acclaimed leadership expert, psychologist, and New York Times best-selling author. In his leadership consulting practice,...

Dr. Henry Cloud is an acclaimed leadership expert, psychologist, and New York Times best-selling author. In his leadership consulting practice, Dr. Cloud works with both Fortune 500 companies and smaller private businesses. He has an extensive executive coaching background and experience as a leadership consultant, devoting the majority of his time working with CEOs, leadership teams, and executives to improve performance, leadership skills, and culture. Dr. Cloud lives in Los Angeles with his wife, Tori, and their two daughters, Olivia and Lucy.

Dr. John Townsend is a nationally-known leadership consultant, psychologist, and New York Times bestselling author. John is the founder of the Townsend Institute for Leadership and Counseling, and the Townsend Leadership Program, which is a nationwide system of leadership training groups. He developed the online digital platform TownsendNOW, and the online assessment tool TPRAT. Dr. Townsend travels extensively for corporate consulting, speaking, and helping develop leaders, their teams and their families. He and his wife, Barbi, live in Newport Beach, California, and have two sons, Ricky and Benny. Visit DrTownsend.com.

Read More

ISBN-13

9780310319573

Publish Date

5/6/2004

Publisher

Zondervan

Weight (lbs)

0.0 lb

Pages

256

Price

$8.99
Additional Information
About the Contributor(s)

Dr. Henry Cloud is an acclaimed leadership expert, psychologist, and New York Times best-selling author. In his leadership consulting practice,...

Dr. Henry Cloud is an acclaimed leadership expert, psychologist, and New York Times best-selling author. In his leadership consulting practice, Dr. Cloud works with both Fortune 500 companies and smaller private businesses. He has an extensive executive coaching background and experience as a leadership consultant, devoting the majority of his time working with CEOs, leadership teams, and executives to improve performance, leadership skills, and culture. Dr. Cloud lives in Los Angeles with his wife, Tori, and their two daughters, Olivia and Lucy.

Dr. John Townsend is a nationally-known leadership consultant, psychologist, and New York Times bestselling author. John is the founder of the Townsend Institute for Leadership and Counseling, and the Townsend Leadership Program, which is a nationwide system of leadership training groups. He developed the online digital platform TownsendNOW, and the online assessment tool TPRAT. Dr. Townsend travels extensively for corporate consulting, speaking, and helping develop leaders, their teams and their families. He and his wife, Barbi, live in Newport Beach, California, and have two sons, Ricky and Benny. Visit DrTownsend.com.

Read More

ISBN-13

9780310260585

Publish Date

5/6/2004

Publisher

Zondervan

Running Time

02:02:20

Format

Audio - Download

Language

English

Weight (lbs)

0.65 lb

Price

$29.94
---
Share this Product
You May Also Like