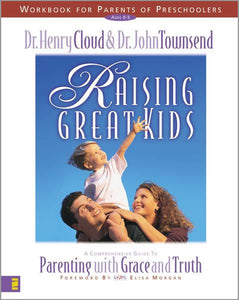 Cloud & Townsend
Raising Great Kids Workbook for Parents of Preschoolers: A Comprehensive Guide to Parenting with Grace and Truth
The Raising Great Kids Workbook for Parents of Preschoolers will help you start sowing the seeds of character in your child's life — for good fruit that lasts a lifetime.
It takes tender strength to raise children of character and faith . . . What does it take to raise great kids? If you've read any books on parenting, conflicting opinions have probably left you feeling confused. Get tough! Show acceptance. Lay down the rules. Lighten up, already! There's got to be a balance between control and permissiveness. And there is.
Drawing on the expert insights of counselors and award-winning authors Henry Cloud and John Townsend and on the parenting wisdom of MOPS International (mother of Preschoolers), Raising Great Kids shows you how truth and grace go together. They are allies in your most challenging and rewarding task: raising children with character that can withstand life's rigors and make the most of its potential.
Using the principles described in Raising Great Kids, the Raising Great Kids Workbook for Parents of Preschoolers will guide you through those first, formative years in your child's life from infancy to age five. It's filled with sound biblical information and expert advice. But most important, it supplies tools you can begin using today, from thought-provoking questions and self assessments to an abundance of practical applications.
Each chapter begins by introducing three or four key parenting principles, and ends with a hands-on exercise and a prayer that crystallize the concepts dealt with in that chapter.
Additional Information
ISBN-13

9780310225713

Weight (lbs)

0.62 lb

Price

$9.09
---
Share this Product
You May Also Like