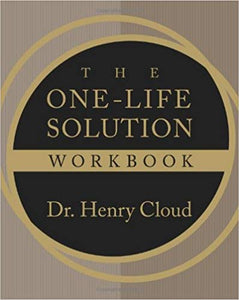 Henry Cloud
The One-Life Solution Workbook
Realistic road to a work-life balance … from the New York Times bestselling coauthor of Boundaries
The One-Life Solution Workbook will guide you through an intense examination of one of the most difficult problems you face: successfully integrating life and work in an era of ceaseless communication, ever increasing pressure, and jobs that don't stop when you leave the office.
In this practical workbook—easy to use by yourself or with a group—you will develop the ability to:
Contain self-destructive behavior and keep it from spreading
Better manage your time, space, and everyday technological challenges
Communicate effectively
Learn to improve your performance inside and outside the office
Deal with the difficult people who steal your time and energy
If you're torn between demanding bosses, coworkers, clients, and the pressures of family and personal life, you will be able to implement the straightforward principles in The One-Life Solution Workbook to reclaim your personal life … without abandoning professional success.
Live a more rewarding and fulfilling life at work and at play with this companion workbook to the breakout message proclaimed in The One-Life Solution.
Additional Information
ISBN-13

9780310293675

Weight (lbs)

0.68 lb

Price

$6.99
---
Share this Product
You May Also Like