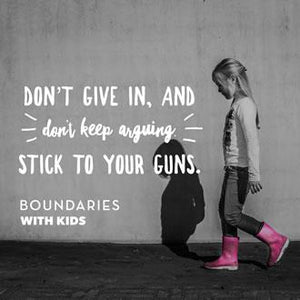 In one family I (Dr. Townsend) know, seven-year-old Taylor was going through a titanic power struggle with his mother. Sometimes, she wondered if setting boundaries with kids was actually possible. Taylor fought any "do" or "don't" she said. Finally, his mom went to his bedroom to talk to him. As she opened the door, a cup perched on the top of the door tipped over, covering her from head to toe with milk....
---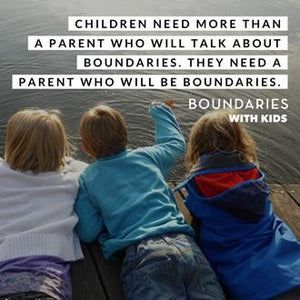 Children need more than a parent who will talk about boundaries. They need a parent who will be boundaries. This means that in whatever situation arises, you respond to your child with empathy, firmness, freedom, and consequences. This is how God handles his children, and he is our model. But, sometimes parents contribute to the problem by trying to justify their kid's behavior, rather than addressing the issue.
Setting boundaries with kids isn't about "making" your child do anything. It is much more about structuring your child's existence so that he experiences the consequences of his behavior, thus leading him to be more responsible and caring....
---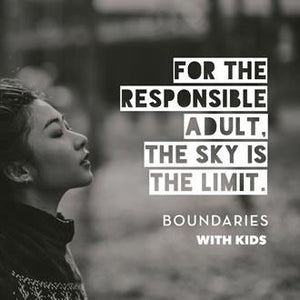 A woman complained to me (Dr. Cloud) about a coworker who would always interrupt her while she was trying to get her job done. She acted as if her tendency to be behind in her work was her coworker's fault.
"Why do you talk to her?" I asked.
"What do you mean?" she replied.
"When she comes in and interrupts, why do you get into a conversation with her?"
"Well, I have to. She is standing there talking."
"Why don't you just tell her that you have work to do, or close your door and put up a 'Do Not Disturb' sign?"...
---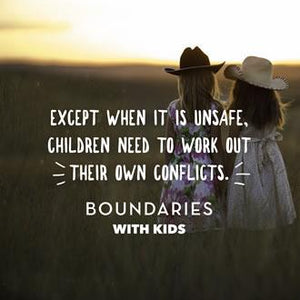 I (Dr. Cloud) can still remember what happened that day when I was eight years old. I made a big mistake, but I didn't know it at the moment. I thought I was getting back at my sister, who was sixteen at the time. Opportunities for revenge were few and far between, and I was not about to let this one slip by. Sharon and her friend were goofing around in the den when one of them threw a pillow and broke the overhead light. They quickly figured out a way to arrange the light in such a way that you could not tell it was broken. They thought that they were off the hook. Little did my sister know that she had a sociopathic little brother with a plan....
---
Since writing Boundaries in 1992, we (Dr. Cloud and Dr. Townsend) have spoken to more than a million people about creating boundaries in their lives. Thousands have told us that creating boundaries has enabled them to love and to live better, some for the first time. Nothing is more exciting than to see people grow and change.
But from our own experience and that of our audiences and readers, one thing became obvious to us. Adults with boundary problems had not developed those problems as grown-ups. They had learned patterns early in life and then continued those out-of-control patterns in their adult lives, where the stakes were higher....