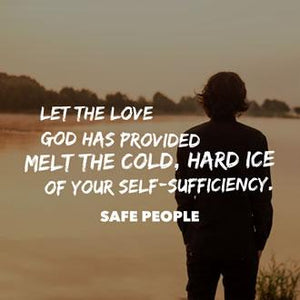 My (Dr. Townsend) three-year-old son, Benny, is now firmly ensconced in the "I can do it!" stage of life. The other day we were getting ready to go out to dinner, and everybody was ready but Benny. He'd gotten all ready except for his pesky Velcro-strapped tennis shoes. They just wouldn't cooperate.
Being the helpful father (actually, the hurried father), I bent down to fasten his shoes for him. He quickly pushed my hands away, protesting, "I'll do it! I'll do it!" And he meant it. So we negotiated....
---
When the real self comes into relationship with God and others, an incredible dynamic is set into motion: we grow as God created us to grow. It is only when you are connected to the Head (Jesus Christ) and connected to others (the Body) that "the whole body, supported and held together by its ligaments and sinews, grows as God causes it to grow" (Col. 2:19). A coming together of grace and truth in Jesus Christ is our only hope, and indeed it is a hope that does not disappoint.
Jake, a friend of mine and a recovering alcoholic, put it this way: "When I was in church or with my Christian friends, they would just tell me that drinking was wrong and that I should repent. They didn't know how many times I had tried quitting, how many times I had tried to be a good Christian...."
---
I began noticing a pattern with Allison in our group. More than anyone else, she was the giver. She provided great financial solutions for team members who had money challenges, as she was highly proficient in that world. Not only that, but she was a relational giver as well. When someone was discouraged, stressed, or beating themselves up for some failure, Allison was warm and empathic and had the right encouraging things to say. She had an intuitive ability to feel what others were experiencing and go to the heart of the matter. And beyond that, between our monthly meetings, she was the one who reached out most often and most consistently to the team members via face-to-face contact, phone calls, and texts.
But there was another side of Allison's engagement with her group. She never asked for anything relational....