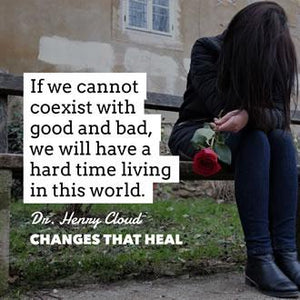 The world around us is good and bad. The people around us are good and bad. We are good and bad.
Our natural tendency is to try to resolve the problem of good and evil by keeping the good and the bad separated. We want, by nature, to experience the good me, the good other, and the good world as "all good." To do this, we see the bad me, the bad other, and the bad world as "all bad."...
---
When the real self comes into relationship with God and others, an incredible dynamic is set into motion: we grow as God created us to grow. It is only when you are connected to the Head (Jesus Christ) and connected to others (the Body) that "the whole body, supported and held together by its ligaments and sinews, grows as God causes it to grow" (Col. 2:19). A coming together of grace and truth in Jesus Christ is our only hope, and indeed it is a hope that does not disappoint.
Jake, a friend of mine and a recovering alcoholic, put it this way: "When I was in church or with my Christian friends, they would just tell me that drinking was wrong and that I should repent. They didn't know how many times I had tried quitting, how many times I had tried to be a good Christian...."